Financial Aid
Important Financial Aid News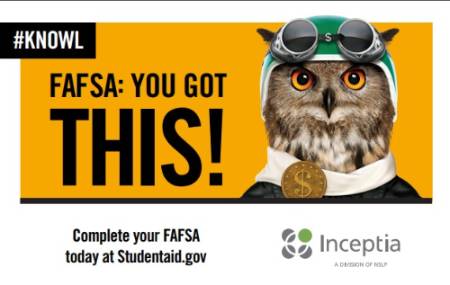 Fall semester has started, but you can still register for late start courses and receive federal finanical aid! See your academic advisor or stop by the Enrollment Advisement Center in the Commons Building.
Looking for financial aid for Fall 2021 and/or Spring 2022? Complete the 2021-2022 FAFSA application.
If you are a New York State student, please make sure you have applied for the TAP Grant. If you missed the link at the end of the FAFSA application, please complete on HESC ASAP.
Do you need to speak to someone at HESC? They are now taking 1-on-1 appointments through their new online appointment scheduler Monday-Friday, 9:00 am-4:30 pm. Schedule an appointment here: HESC Online Appointment Scheduler
Additional important information may have been sent to you via email from HESC. Please take a couple of minutes to read it now.
Monitor your CCC email for notifications and next steps.
607-962-9875
Monday-Thursday: 8:00 am-4:30 pm
Friday: 8:00 am-4:00 pm
Staying Safe at SUNY Corning Community College
Staff are working on-campus and remotely, Monday-Friday. Please schedule an appointment to meet with us.
FINANCIAL AID APPOINTMENTS AVAILABLE
After you select the time for your appointment, you will receive an email from the FInancial Aid Office. The email will give you a Google Meet invite link that you can join either by video or phone.